Golfing Society
Old Milhillians Golfing Society
Contact: Colin Nunn
The Golfing Society is thriving. We have 130 members of all golfing abilities, from scratch to novices. We are always looking for new members, especially younger ones (to whom we provide very generous subsidies at all of our events). We have no lady members and would really like to have a ladies' section.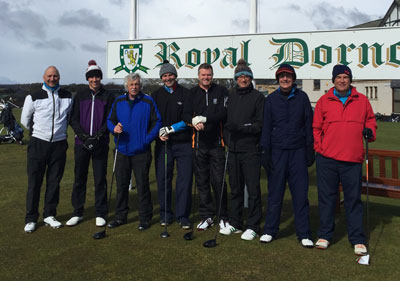 We have a Spring Meeting and a three day Spring Tour in alternate years. Recent Meeting venues include North Hants, Ashridge and Royal Ashdown Forest. Recent Tours were to Wicklow, Royal Dornoch / Skibo, Dorset and North Devon. We generally have about 30 attendees on tour.
The next Spring Tour is to Suffolk 16th-19th May 2021.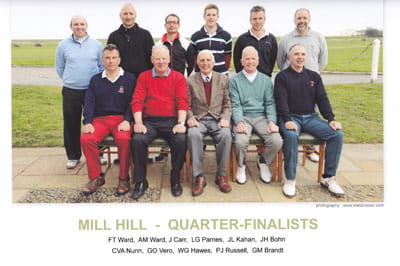 Throughout the year we have several fixtures at venues such as Moor Park, New Zealand, West Hill and Porters Park. Needless to say, Covid has pretty much wiped out or 2020 calendar. A 2021 fixture list will be posted here as soon as it's available.
An OMGS event has been held at over half of top 100 courses in UK and Ireland in the last 35 years.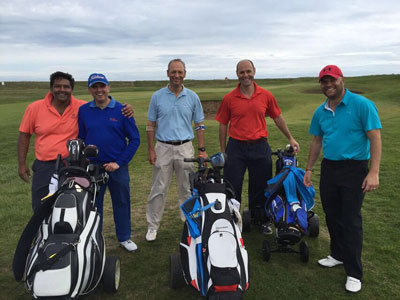 Our annual Autumn Meeting weekend at Royal Cinque Ports is held in mid-September. OMGS members have Public School Membership rights (20% green fees) at one of the UK's greatest courses. We generally have about twenty attendees on tour. We hope that this year's meeting on 11th to 13th September will not fall a victim of Covid.
Our scratch team is getting both better, and younger, a trend that bucks most school and club sides. We participate in the Halford Hewitt (the public schools scratch tournament) a competition that is golf at a very high standard https://www.halfordhewitt.org/. 64 teams of 10 scratch golfers; a huge event. James Ellis, the scratch team captain (and one of the best golfers in Middlesex) would love to hear from any low single-figure handicap golfers.
We have two annual matchplay competitions; a great way to meet other OMs and play different courses. Our members play at many of the finest courses in the South East.
Our Annual Dinner is held at a variety of top London clubs. This year we will be at The RAF Club in Piccadilly on the 20th November. All are welcome.
Colin Nunn, Hon Sec (1975-81). colinvnunn@hotmail.co.uk
FUTURE EVENTS
2020
25th August - Match vs Old Leys and Aldenham at Porters Park
11th -13th September Autumn Meeting at Royal Cinque Ports
10th October – Match vs Haileybury at New Zealand
20th November – Annual Dinner at RAF Club
2021
7th – 11th April Royal Cinque Ports / Royal St Georges
16th – 19th May Spring Tour to Suffolk