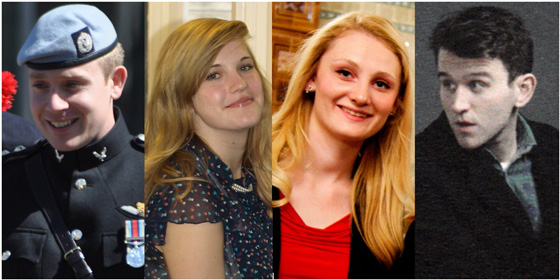 YOMS Achievements
We love to hear from young Old Millhillians so please let us know of your achievements or any interesting news. Don't be shy!
Harry Melling in 'King Lear'
Old Millhillian Harry Melling (McClure '07) known to many as 'Dudley Dursley' in the Harry Potter films, is currently appearing in King Lear at the 'Old Vic' theatre from 25th October - 3rd December with Glenda Jackson in the lead role.

Dr Martin Hirsch
I am an OM (School House 1997-2002) and currently a doctor working at St Bartholomew's Hospital. Along with several (non OM's) I have had a research article accepted for publication by The Lancet. This is one of the most highly regarded medical journals with over 1.8million subscribers to it's weekly publication.
The article covers the use of music to help patients recover after surgery and has shown benefits in reducing pain and anxiety. This has been the culmination of 3 years hard work and long nights without any external funding and alongside routine clinical commitments. There is a strong possibility of mainstream national media and newspaper coverage with a press release from Queen Mary University of London on the (as yet unspecified) date of publication.
Ben Glassberg
Ben has recently been offered a Scholarship place to do a Master's degree in conducting at the Royal Academy of Music in London.
The audition process was particularly fierce with fifty applicants competing for just two places and Ben will be undertaking this in September 2016.
Alex Loudon
Weymouth 2003-08) designed the commemorative 50 pence coin for the Glasgow Commonwealth Games. It was a major achievement for 24 year old Alex who has previously won the Product Design prize whilst he was at School and studied Product Design at Falmouth University.
Alex was working for 'Tangerine' a consultancy company when he was appointed by the Toyal Mint to design the 50 pence coin. Alex's initials are on every single coin. 60 million coins were minted and put in circulation in Scotland in time for the Games.
Alex is now at the Royal College of Art. You can read an interview with Alex on the royal mint blog. http://blog.royalmint.com/glasgow-2014-50p-design/
Matthew Stubbs medical success
Matthew (Priestley '05) graduated from St Bartholomew's Hospital and the London/QMC with a triple first and the Principals Award for the highest academic achievement of his year; circa 400 students.
He obtained an academic F1 position at London North Deanery (one of only 2 academic posts allocated in the year and the only one to a London deanery). He has just started his third F1 station, being anaesthetics at Barnet Hospital. He will then spend the following three stations at the Royal Free.
Jo Batty wins Silver in Starpack student awards
Well done Jo Batty (Atkinson '11) who has recently won a silver for her Tango bottle design at the Starpack student awards. Starpack are working on behalf of Britvic to design a new Tango bottle for next year. Take a look at her design on the website
http://www.iom3.org/student-starpack-2013-brief-c-winners/
Jack Weller at Cambridge
Jack (Weymouth '11) studying Classics at Cambridge, has just won a major prize for Greek and has been awarded a half-blue for Fives
Ella Jakubowska wins National Prize
Ella Jakubowska (Cedars 2010) has recently been announced as Female Undergraduate of the Year (sponsored by Rolls Royce) at the 2013 TARGETjobs Undergraduate of the Year competition.
The winners were announced by Sir Trevor McDonald at a glittering ceremony in Canary Wharf, London. There were 1,100 applicants where students climbed mountains, set up businesses, won numerous other awards and raised thousands of pounds for charity.