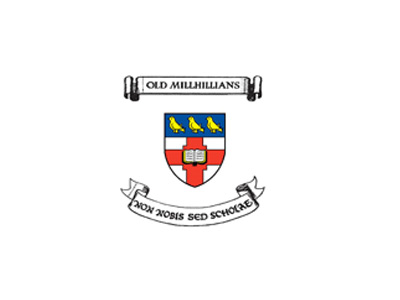 Tim Bunyard 1949-2014 (Burton Bank 1963-68)
The large gathering offamily and friends that attended Tim Bunyard's Memorial Service in the Mill Hill School Chapel onthe 15th January, 2014, was atribute to the high regard and affection that he was held in by so many. Tim, who was educated at Goodwins and then at Belmont and Mill Hill Schools, cultivated a wide circle of loyal friends through his varied, but mainly sporting, interests.
Throughout his life he remaineda devoted Old Millhillian and Old Belmontian.
Tim was born in 1949, and arrived at Belmont in the summer of 1955; he came to love the School so much that his only son, Simon, followed him there in 1987.In the sandpit next to the air raid shelter,he first met his lifelong friends, Nigel Wray (who spoke so movingly at his memorial) and Bob Rudd.Here he developed his sporting prowess at rugby, football, cricket and tennis while in his leisure time he and the other boarders would roam the Belmont grounds or play chess in the Headmaster's lounge during the long summer evenings. His love of Belmont stayed with him and later in life he joined the Belmont skiing trip and twice went to Jersey with the cricket and rugby teams, always full of encouragement not only to Simon but to all theboys - who werealways entertainedby his quirky outlook on life. In 1994 he was the first Chairman of the Old Belmontian Association, a role he held for several years.
He then moved to Mill Hill and into Burton Bank boarding house.He now added hockey to his sporting repertoire, a game which seemed to suit him well; and he represented the Ist X1 at both cricket and hockey.After sporting and academic success he moved onto Hull University where he clearly revelled in his student days judging by his many but often unrepeatable anecdotes of histime there. After University he trained as a solicitor and was particularly capable in reconciliation work, once appearing in a TV documentary exploring the subject.
As well as his professional career Tim played hockey forHendon and rugby and cricket for the Old Millhillians, developinga unique delivery strideand a whippy action when bowling. His sporting lifeinvolved frequenttours and he wasa founding and ever-present member of the annual Old Millhillian cricket tour to Sussex.Through Hendon hockey clubhe met his wife Ann, a keen tennis and hockey player, andthey continued to share a mutual love of sport throughout their marriage,later becoming enthusiastic followers of Saracens rugby.
Later Tim and Ann joinedArkley Golf Club andwhatever the weather, Tim would arrive muffled and wrapped in sweater and jacket, puffing at a cigarette with a newspaper tucked under his arm. With John Hardie and others friends such as Harold Poole, Amajit Gill and Robert Warren, he would chew over the world of politics, do the crossword and imbibe a glass of red wine.He enjoyed nothing better than a good argumentand would stubbornly stick to his political views – certainly Tony Blair and the Iraq wars were particular targets of his invective: he would never bear fools gladly. His rambling humorous anecdotes were legendary -always much enjoyed, even if the direction of the story was sometimes lost- while his knowledge of Carry On films was legion.
Despite a curmudgeonly view ofbureaucrats andpoliticians, he wasextraordinarily generous –almost to a fault; he wasalways willingto offer advice or tolend a hand andtotally egalitarian in his choice of friends.He was also a proud and dedicated family man.Though his only brother, Martin, died a few years ago,Timis survived by his wife,Ann, andhis son, Simon.As a family they were alwaysmutually loyal, loving and supportive andTim was neverprouder than when recounting a golfing achievement of Ann or a sparkling innings of Simon. He will continue to be missed by so many, particularly when a bottle of red wine is uncorked.
Tim Corbett