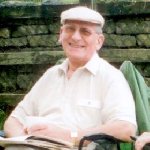 Stephen Ruhemann (Winterstoke 1945-50)
The God –fearing "GC" of 1945 was even more politically aware than Maurice Jacks's "Thirties". Communism was no longer mere Leninist theory but here and now reality, as close to the West as divided Berlin and Vienna. Much of that reality was as ugly as its Stalinist architecture, with later show trials in the Eastern Bloc to prove it. Onto that stage, sporting a "hammer and sickle" badge at his interview for the pathfinding 'Middlesex Scheme', stepped a boy born in 1932 in Kharkov, of brilliant German scientist parents, atheist Stephen Ruhemann.
Intellectually outstanding, and seemingly Party-trained in Marxist dialectic, one of the four best academic brains of his cohort, Steve presented his Winterstoke Housemaster, "Scailes" McAllister, with a problem – and an opportunity: how to embrace this potentially-disruptive phenomenon into the comfort-zone of Mill Hill? His and "The Whale's" clever answer was to bring him inside the tent and facing out – although perhaps they need not have worried. Steve also possessed maturity beyond his years, and quickly on his own merit rose to become Head of his House and (exceptionally) a 'non-gamesy' 2ic to Rugger and School captain John Coombes. However, one of his more gamesy chums, a members of the School XV (who might have been Ronnie Aye Maung) recalls being unceremoniously floored bySteve during an inter-house rugby match and not just once! Although Steve was never one to join in with the OMC, Ronnie did manage to coax him to a Leeds OMs Dinner a few years ago: although he enjoyed meeting up with some of his old mates, this was clearly a one-off!
Steve went on to do himself, and Mill Hill proud, getting into the then Inperial College, London to read Chemical Engineering, and proceeding to a career first in industry, and then at a then 'Red' Bradford University, where he became a lecturer in Chemical Engineering, and served for 30 years on the academic body, crowned with co-writing a standard text, Fundamentals of Process Safety in 2001. Steve remained a Communist until the Party disbanded in 1985, a fact which somewhat disappointed his erstwhile Mill Hill friends, among whom the writer counts himself fortunate. The espousal of a left wing counter-weight to fascism was very understandable and once, to some, vital. However, when first the Hungarian uprising of 1956, and then the Prague spring of 1969 revealed the true face of communism as totalitarianism, that idealistic devotion seemed to many incomprehensible. However it did not preclude admiration for Steve's sterling qualities, which were appreciated in his wider activities – for the University, for the AUT (Association of University Teachers) of which he became President in 1982-3, for his local school Governors, and many other good causes.
After his wife, Norma, died, it was his new partner, Joan Marshall, who sustained him, with his two daughters, Linda and Clare, through the cancers which finally led to his death on 11th February 2009; he was characteristically brave in letting his friends know about his situation. The family were also most helpful in supplying career data about him. He had three grandsons with interesting names, Sam, Joseph, and Christian. They can celebrate, as can Mill Hill, the life of a very able Millhillian, an exemplar of the Middlesex scheme, and a highly public-spirited and socially aware man of his time.
Roddy Braithwaite (Winterstoke '50)