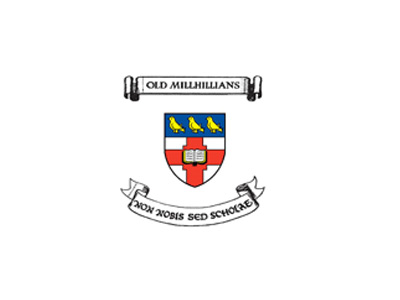 Rodney Borgartz 1935-2010
Rodney Borgartz (Murray 49-52)was born in Harrow on September 21st 1935 and came to Mill Hill in 1948. He was one of the relatively few day boys in those days and consequently joined Murray House. However, in spite of leaving after the Vth form to take up Articles he had already demonstrated a passion and ability for rugby by playing in the Colts XV and forged many friendships which were to last him for the rest of his life.
On leaving school and although still very young he joined the OMRFC. Such was his enthusiasm and ability that it wasn't long before he had established himself as a prop where he played for several seasons and gained a Middlesex Trial. He, Rodney Haynes and Jim Kent formed a formidable front row which was only terminated when Rodney decided that after a week's commuting to Tiptree in Essex and with his wife's pregnancy he could not train sufficiently often and reluctantly, and under pressure from his team mates not to do so, hung up his boots. However, his love of rugby continued and he became a Vice-President of the Club, supporting it with his presence as frequently as he could. His children learnt at a very early age never to walk in front of the TV if a match was on. He was always present at the Vice-Presidents' luncheons at Headstone Lane and loved nothing more than to support the XV from the touchline and to meet his many friends. He was also a keen squash player and was playing regularly until his final illness.
After Mill Hill he joined Thompson McLintock and qualified as a Scottish Chartered Accountant in 1959, being immensely proud of the Scottish qualification which he considered to be far superior to any other. Shortly after qualifying Rodney moved into industry but in 1970 set up his own accountancy practice. He became President of the Colchester Junior Chamber of Commerce in 1974.
Outside work Rodney was particularly interested in charitable work and voluntary services. He was a founder member of the Colchester Forum Rotary Club, became its President in 1985/86 and went on to be Governor of the Essex Rotary District 1240 in 1997. He was very proud to wear the green jacket. He was also for three years Chairman of Colne Housing Society which manages high quality affordable homes in Essex, a governor of St Mary's School, Colchester for thirty and an active supporter of the Hope and Homes for Children charity. He was also very interested in classical music and frequently went to the proms and to the ballet where he took his daughter and granddaughters.
Rodney married Christine in July 1960 having proposed to her on the way home from Headstone Lane six months earlier after stopping in a lay-bye to dispose of the beer he had consumed earlier in the evening. It was a long and happy marriage in which they had three children, Martin, Ian and Helen of whom Rodney was very proud, as he was also of his three grandchildren. He was a regular attendee at the Old Millhillians Cambridge Dinner when one of his family would always drive him home to Tiptree.
Rodney was taken ill in March immediately after playing squash and was taken to Essex County Hospital where cancer was diagnosed. He passed away peacefully a few weeks later.