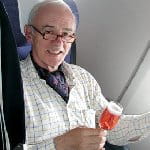 Robert Maunder-Taylor (Weymouth 1954-59)
Robert Maunder Taylor passed away on 17th September after a long illness. Robert was the eldest of a second generation of Taylors at Mill Hill and was followed by 3 brothers, two nephews and a great nephew at Belmont. He was head of Weymouth and made his mark in the Corps, where he rose to the rank of Under Officer. One story, oft repeated by Sgt Major Maloney, related to an initiative weekend when the goal was to get as far away and back again within 48 hours. Robert got himself to Edinburgh and requiring proof, entered the Castle late at night. The guard commander, mistaking him for the orderly officer, paraded the guard which he duly inspected. The mistake was realised and a letter of congratulation received by the School.
His was the first year not required to complete National Service and so he followed his Father into the family business as a Chartered Surveyor. He developed the professional side of the practice with a particular flair for building surveying, in the course which he helped many a Millhillian.
Outside his work he was devoted to his family and to the service of his local community. Whether it was the London Junior Surveyors, the Hadley Wood Association, his local church or village, he worked tirelessly with his charming wife Virginia, in organising sports days, village fetes and surveying meetings. Fly fishing became his pastime of choice and harking back to his fondness for the military, his ringtone was the National Anthem.