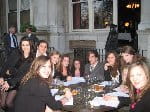 OMC Leavers Reception 2010
The Leavers reception is an opportunity for the upper sixth to be officially introduced to the Old Millhillians Club and for many students, it is the first time that they have visited the National Liberal Club.
Mike Corby the Vice President started off the evening by formally welcoming the students to the NLC and to the Old Millhillians Club. Speeches were made by OMs representing their particular area within the main Club such as Jamie Monaghan for the Rugby Club, Kathy Haering for the recently formed Drama Society, Alan Toulson for Careers advice and Stewart Wernham for Cricket. Other OMs were also on hand to mingle with the sixth formers and answer any questions, Noyan Nihat, Chris Vincent and David Matthews. After the speeches, the students stepped out onto the beautiful terrace of the NLC and enjoyed the wonderful view with drinks and canapes. They were taken on tours of the NLC and were suitably impressed. It was a very pleasant evening and we wish the pupils the very best of luck in their forthcoming examinations.
To see more images of our Leavers reception, please visit our Gallery.