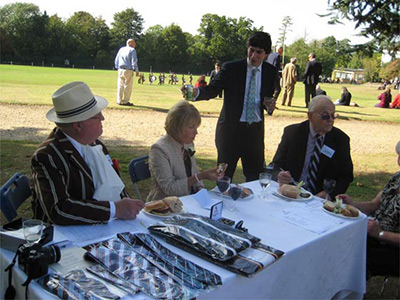 Old Millhillians Day 2009
Late September often proves to be a time of glorious late summer sunshine and Old Millhillians Day on Saturday September 26 was no exception. The event was again combined with the School's Foundation Day and many thanks to the Headmaster and the School providing such generous hospitality, including a magnificent spit-roast barbecue.
The day kicked off in the Favell building with a lively gathering of pre-1960 leavers ( invited by the Friends) combined with a reunion of some who had been evacuated from Millhill to St Bees during the war; it would be good to see the links between the two schools continuing in some way. It was also a delight to seen Jean Clarkson, who for so long was the administrative force behind the St Bees Association.
A goodly gathering of Old Millhillian guests were able to watch the School Ist XV triumph on Topfield, listen to the marching band and watch the Old Millhillian Hockey XI beat a team from Millhill hockey club 6-2. Many thanks to Jonathan Cuff, the new master in charge of hockey, for his help with this fixture. The Fives Club again enjoyed its traditional match with the School while the OM rugby club was less successful on the Park where it lost heavily in a league game.
As usual there was the opportunity for guests to view the School, which looked magnificent, and the day ended for most with tea on Top Terrace. However, a significant younger group of OMs finally retired to the Three Hammers for beer and gossip.
Visit our gallery for more images from this years Old Millhillians Day