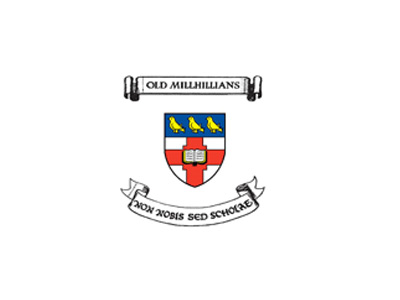 Middlesex Scheme
I was 7 years old; it was a cloudy winter's day when my mother first mentioned Mill Hill School to me. We were to go by the 140 bus from where we lived in Kenton near Harrow to find the school as a possible place for my brother Martin some 5 years older than me. We never found the school on that occasion but that was the beginning of a 66 year relationship with Mill Hill – the School.
A few weeks later another attempt was made, the school was found and my mother widowed in 1943 decided, having met Dr John Whale that Martin should go as a day boy to Mill Hill. One of the motivating reasons rather than choosing to go to Merchant Tailors or UCS, where many prep school pupils from Quainton Hall went, was the fact that Mill Hill was founded as a non-conformist school and John Whale was himself a noted congregational minister. My mother's family had been deeply involved with the Congregational Church in Hull, East Yorkshire, where her father had built, at the turn of the last century, a new Congregational Church. Her mother was the first deaconess of the Congregational Church in the country.
Five years later it was my turn to move on from Quainton Hall and I was prepared for the Mill Hill School scholarship in the hope that I could win a scholarship place as a boarder. In the event I appeared for interview with Roy Moore, the then headmaster, on St. George's day 1952. Most of the visit seemed to be taken with the interview although I think there were some not very complicated papers and written answers to deal with beforehand. A very few days later we received notification that rather than a school scholarship the school proposed that I receive a Middlesex Scheme scholarship. That of course was wonderful for my mother who I know was quite concerned to know how she could possibly afford to give me the education she wished. In spite of her Father being a successful businessman in the North East, she was the youngest child and having been widowed had only modest means.
I remember preparing to come to Collinson House.
In mid September 1952 I arrived at the school and the front door of Collinson House. That was virtually the only time I entered Collinson by way of the front door in all my 5 years residence in the house. I remember going into Donald and Enid Hall's drawing room for tea and then bidding my mother goodbye as the then head of house John Roberts took me to the first year dormitory to unpack my trunk, which Carter Patterson had delivered and which was by my bed. In those days at Collinson the only dormitory on the first floor was the first year or "fags" dormitory in which there must have been about a dozen beds. The junior common room was across the landing and there was no question of anyone having an individual or double dorm until possibly becoming Head of House when there was a two bed roomed room on the second floor usually occupied by the incumbent Head of House.
One of the school traditions to which we were introduced was the "colour system". It was explained on the second day that we were all expected to know the traditions of the school and the individual apparel blazers, ties etc which pupils might wear as they progressed in sporting achievements or prefectorial responsibilities. During the first term or so we were frequently tested on our knowledge.
I recall most clearly my first day in the classroom. I was placed in the Removes which most entered in their second year. I am not sure that was a total benefit as it meant that I was away from most of my first-year contemporaries and dealing with second year boys who no longer had to do the more menial roles, cleaning, polishing and cooking for the prefects, expected of the first years. Ted Winter a relatively new English master who was our form teacher asked each of us to talk about something which they knew about. My subject was the sound barrier, John Derry and the DH110 which had crashed just days before at Farnborough killing 28 people. I was even then very keen on aeroplanes and read all I could about them. Later in my school career and even after becoming an OM several have recalled that first day and talk of the sound barrier.
I really was no sportsman and my time outside the school room was preoccupied with photography and clubs which saw their full activity on Sunday evening between 5 and 6 o'clock. I still recall the motor club and the extraordinary way we were able to obtain visits from Raymond Mays, the progenitor of the post war BRM (British Racing Motor) formula one cars and Graham Hill both of whom visited us without any sort of payment to talk about motor racing in the early evening of two Sundays. The lesson for me was "if you don't ask you don't get". I also loved singing in chapel and my first year of course included the Queen's Coronation. The amazing two music masters Derek Johnson and Hans Burgher arranged that the choir would sing all the anthems from the Queen's Coronation service during the course of the year - that was a wonderful experience.
After obtaining all but one of my GCEs (the one I missed was Greek) I proceeded to the maths sixth where in those days one studied maths and advanced maths and physics. I believed it to be a rather narrow curriculum but nevertheless obtained my A levels when I still had a further year at the school. I wish I had moved to do some other A levels but that wasn't the form and I went forward to do the scholarship level papers in mathematics which were completely beyond me.
In January, 1957 looking forward to the Queen's visit to Mill Hill I became Head of House and also went to Kings College Cambridge for an interview for admission to read engineering. Having decided not to go into the RAF at about the time of the Defence Minister, Duncan Sandys announcement that there would be no more manned flight in the RAF, I decided that I would have to take a vocational degree and the maths and physics pointed to engineering. A few days after my visit to Kings I received a polite rejection note. However the school and I were undaunted and it was suggested I seek admission to Fitzwilliam House, at that time one of the non-collegiate institutions of Cambridge University. In June I went up to Fitzwilliam and was interviewed in a wholly more supportive manner by the admissions tutor and on my last day at Mill Hill on July 7th 1952 I received a note from Fitzwilliam that I had been accepted for 1958. My final days at the school had been extremely busy because we had arranged to take various photographs of the Queen's visit which had been on the 1st July and not only did I have the privilege of meeting the Queen and escorting her from the Science Block with other monitors to what we then called the Fishing Net (now the site of the sports hall and all-weather hockey pitch) but I had also arranged the photography of her visit to the various parts of the school. Prints had been ordered by pupils and I found myself working very hard with the help of many others getting them printed, mounted and delivered before the end of term.
Thirty days after leaving Mill Hill I found myself in a quite different environment. I had found a job in an engineering company in Willesden where my role was entitled "Improver"! The title role was one of the few examples of positive thinking in my engineering experience! In fact an Improver is the lowest of the low and spent most of his time doing menial tasks around the shop floor including filing metal to close tolerances, cutting up lumps of steel, removing trash etc. Actually I found it very interesting and the people more so. I got on well with them and two of them invited me to their separate homes and this was the beginning of a set of new experiences for which Mill Hill had prepared me well. In mid September I was off to Stafford to work at the 12,000 employee English Electric engineering factory. At that site the firm manufactured equipment for electrical generation and distribution and in particular turbo-alternators and switch gear. The firm had just opened an apprentice's hostel at Dunston Hall, previously the home of Peter Thorneycroft, Chancellor of the Exchequer to Harold Macmillan. We were the first apprentices accommodated there; some in the house in dormitories and others including myself in a series of some four or five prefabricated buildings connected by corridor and fitted out as dormitories with 6 or 8 apprentices in each. We had breakfast and supper there and all three meals on Saturdays and Sundays.
After a short time the Personnel Director, who lived in the Hall with his family approached me and several other apprentices about the formation of a house committee which was duly formed. We were told that we should elect a chairman from amongst our number and somehow – I can't remember the process - my name came out of the hat! Again Mill Hill experience served me well because the apprentices came from a wide diversity of backgrounds. Several had done National Service and were in their mid twenties having served as officers, one as a Captain, in the army etc and on the other hand there were two or three who had come from borstal institutions (teenage remedial training centres) with a very great mix in between and from all over the country. The house committee was a difficult body to manage with very many different views, I found that if after considerable discussion, the issues were not being addressed I would express a final position and if argument persisted I would conclude by offering to resign and on several occasions that seemed to work.
In the spring of 1958 English Electric announced that they were going to award 20 industrial awards for apprentices on 1-3-1 courses to finance the award winners through universities. There was to be a three day competition and interview at the Wedgewood Management Centre at Burslem. I was fortunate to be awarded one of the scholarships. And so in October 1958 I went up to Cambridge. Fitzwilliam had virtually no accommodation and so most of the undergraduates were placed in University approved accommodation across the city. I was in rooms some mile and a half from the centre with a very nice retired couple.
Fresher's week absorbed me and I joined far too many societies and clubs. At the end of the week I became aware of the RAF University Air Squadron and literally at the end of the process of selection I filled in the forms and applied to become a member. I got on very well with the then commanding officer Wing Commander John Thompson who only 2 years before had been flying in the lead Beverley and parachuting troops into the Suez Canal zone. After a very substantial medical check I learnt that I had been admitted. The 17 air squadrons of those days were vehicles to facilitate recruitment into the RAF and of course support the RAF sponsored undergraduates but also were there to create a cadre of individuals who in later life would be not only supportive of the RAF but also of aviation in general. I loved my time in the Air Squadron gaining some 160 hours of flying – mostly in De Havilland Chipmunks but also in training Vampires and a Hawker Hunter. I was also very active in political circles and the union and was a contemporary of some 15 or so undergraduates some of whom were later in the cabinet including Ken Clarke, Michael Howard, Norman Lamont etc. We see each other to this day and a group of us are having a dinner with our spouses in October, 2012 to celebrate the Queen's Diamond Jubilee. Through all this my engineering studies took something of a back seat but I managed to obtain my honours degree but never proceeded as is the custom at Oxford and Cambridge to pay 10 guineas or so to obtain an MA!
I am glad that much more recently I have become a good friend of the current Master of Fitzwilliam – now a college on another site on the Huntingdon Road – Professor Robert Lethbridge and his wife Vera. Robert is an Old Millhillian from the 1960s and I am now appointed to the college's Campaign Council to facilitate development and fundraising.
This is hardly the place to go through my career which has been, after a short period designing aircraft, in the field of computing, IT and banking software. Suffice to say that with many other capable colleagues we built from start-up a business employing 2000 people and operating in 70 countries around the world and with offices in 14. We sold the company in 1986 and I continued as Chief Executive with the new owners, what is now Verizon Inc a major telecommunications service provider principally on the East Coast of America. In the same week that the ink was dry on the company sale I received a letter from the Cabinet Office saying that I would be awarded an OBE if I responded that I would not object. Forty years after meeting the Queen at Mill Hill, my wife and I and two of our three children were at Buckingham Palace. Finally we sold the business again in 1993 and the major part of it was for many years a principle part of Misys which has itself recently been sold to Canadians. Since 1993 I have been working with small companies, investing in them and supporting founders with management and organisational development and sales and marketing strategies.
Twenty four years ago I was approached to become a Governor which I did in 1986. It was a period when Mill Hill was experiencing challenges and change and I proceeded to become Chairman of the F&GP and Vice Chairman of the Foundation in 1995. In the subsequent 10 years the school invested some £20 million in new facilities and saw its bicentennial.
I owe Mill Hill an enormous debt of gratitude for enabling me to receive the education it provided in my teen years. Not only academically but also in the wider field of working with others, encouraging and getting the best of disparate skills, Mill Hill provided many of the thoughts and tools which I have applied throughout my life.