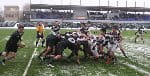 MHS 1st XV vs Watford Grammar Saturday 19th January 2013
Mill Hill School 1st XV vs Watford Grammar Mill Hill School lost 7-14 to Watford Grammar at Allianz Park, formerly Copthall Stadium, on Saturday 19th January as the two schools created history to become the first teams to take part in a competitive rugby match at Saracens' new home.The test event of the pioneering all-weather rugby surface was attended by supporters from both schools, along with Saracens' Chairman and Old Millhillian, Nigel Wray. While other pitches and grounds around the country struggled to play matches in the ice and snow, the artificial turf pitch at Allianz Park offered a fantastic playing surface.
It was an evenly matched and open game but Mill Hill, playing out of season, just lacked the sharpness in their catching and passing to turn territory into points. Watford went ahead but Mill Hill levelled with fly half Oli Avent breaking through the Watford defence. He converted his own try to make it 7-7 but Watford grabbed a late winner followed by a conversion. An entertaining game had been enjoyed by a crowd of several hundred, with a large contingent of Old Millhillians there to witness this historic occasion.