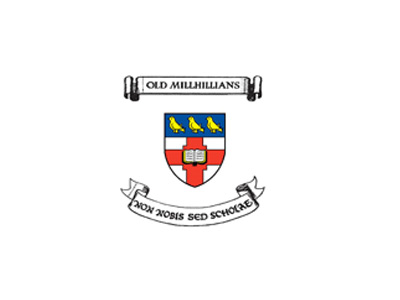 Kenneth Lloyd (School House 1928-31)
Kenneth Lloyd was a champion of physical medicine and rheumatology in Wales. With a combination of vision, forceful personality and political skills he created, more than 60 years ago, the first department in Wales to specialise in the treatment of rheumatic diseases. It was a National Health Service facility designed to respond to, not only the huge clinical demands from the local Cardiff population with a heritage of heavy industries and physical injuries, but also to referrals of patients with chronic rheumatic diseases from across Wales. This formed the nucleus for what later became the first teaching centre in Wales for trainees in rheumatology.
Kenneth Newton Lloyd (Ken) was born on the 21st November 1913 at Winchmore Hill, North London; the second of five sons of Grace and Ernest Lloyd, an InnerTemple barrister-at-law. Ken boarded at MillHillSchool, as did his Father, Ernest and his Uncle, his son Roger, elder brother Allan, and younger brother Peter. Ken graduated from the London Hospital Medical College MB BS in 1937, and LRCP MRCS in 1938. At the start of the war Ken was working as an assistant to the house surgeons at The London Hospital.
The defeat at Dunkirk prompted Ken to volunteer for service in the RAF. He was appointed a medical officer at RAF Tangmere in West Sussex, the home of two Hurricane fighter squadrons, where he remained throughout the Battle of Britain. After marriage to Phyllis in 1941, he was posted to North Africa at the time of Rommel's North African campaign. He remained there for the next two and a half years and was promoted Squadron Leader as second in command of the RAF hospital in Cairo.
After the war he completed his medical training at The London Hospital, obtaining his MRCP in 1947. In 1949 he was appointed Physician-in-Charge of the Physical Medicine Department, United Cardiff Hospitals (Cardiff Royal Infirmary and LlandoughHospital), and lecturer in Physical Medicine at the Welsh National School of Medicine. Ken's wartime experiences had convinced him of the need for good rehabilitation services. In addition to supervising the development of hospital rehabilitation services he was closely involved in the School of Physiotherapy and fought successfully for the establishment of an Institute with shared facilities for the training of health care professionals. This novel concept became a reality in1974 with the opening of the first Combined Training Institute in a new building on the site of the University Hospital of Wales in Cardiff.
Ken was one of the pioneers in physical medicine who saw the need for the development of the specialty of rheumatology. In 1972 he was appointed Consultant Rheumatologist to the newly-built University Hospital of Wales, in Cardiff. His drive contributed greatly to the design and construction of a modern rheumatology department in which there were excellent facilities for service needs. His determination also encouraged the development of the first academic rheumatology unit in Wales, established in 1974 within the Department of Medicine at LlandoughHospital.
Throughout his consultant career Ken was very active in local and national medical affairs. In addition to campaigning relentlessly, and with some success, for the expansion of rheumatology services in Wales, he and Phyllis were strongly committed to raising money for arthritis research. He was a founder member and Chairman of the Cardiff branch of the Arthritis and Rheumatism Council (now Arthritis Research UK) and he was a founder member and Chairman of the South Wales and South West Rheumatology Club. A stalwart member of the Cardiff Medical Society he was also for many years the only rheumatologist in the Society for Physicians in Wales. Ken served as a Council member of the British Association of Rheumatology and Rehabilitation (BARR) between 1952 and 1972, and was Treasurer from 1962-65. He was also actively involved in the Rheumatology and Rehabilitation Section of the Royal Society of Medicine, serving in turn as Council member, Secretary and President, before being made an honorary member in 1985.
He was honoured nationally for his professional achievements and was elected FRCP in 1969. In 1977, in recognition of his considerable contributions to rheumatology, he was given the distinction of being invited by the Heberden Society to give the Heberden Round at the Welsh National School of Medicine.
Ken had a life-long passion for sport, and his interest in sports medicine stemmed from his early years as an athlete. At Mill Hill he represented his school in rugby and athletics. At MedicalSchool, because of the pressure of exams, he declined an invitation to train to represent Great Britain in the quarter-mile hurdles at the 1936 Berlin Olympics. However he won numerous trophies at the University of London Athletics Club and at the White City Stadium Championships. In 1958 he became a medical advisor for the British Commonwealth Games which were hosted by Wales in Cardiff. He served as Medical Advisor for the Welsh team at the Commonwealth Games in Edinburgh in1970, Christchurch in New Zealand in1974 and in Edmonton in Canada in1978.
Throughout his adult life Ken was a passionate, intrepid and competitive sailor who enjoyed sailing with his family as well as competing in races in the Bristol Channel. He and Phyllis would sail to the Pembrokeshire coast, the Isles of Scilly and to south west Ireland. In retirement he became Commodore of Barry Yacht Club and continued to race regularly. Phyllis died in 1995. Undeterred by failing eyesight due to macular degeneration, Ken competed in the annual Bristol Channel Old Sea Dogs Race until his 87th year. In so doing he remained true to his life-long philosophy of "use it or loose it", stressing the importance of maintaining physical fitness, which he advocated long before this became a popular catch phrase.
Ken retired in 1979 after 30 years as an NHS Consultant, knowing that he had established a legacy with solid foundations for the future development of rheumatology throughout Wales. As a token of their admiration and affection, his colleagues presented him with an oil painting of his yacht and, as a mark of the esteem in which he was held by his peers, he was made a Life Member of the British Society for Rheumatology.
After years of annual visits to his family in Australia, Ken emigrated to Melbourne in 2000, to be looked after by his daughter. With increasing fragility and failing eyesight he moved to a nursing home in 2008 where he was able to maintain his interest in nature, history, music and sport, as well as close contact with his family. Ken remained cheerful and alert until he died peacefully on the 1st January 2012, at the age of 98. He is survived by his son and daughter, four grandchildren and one great-grandchild.