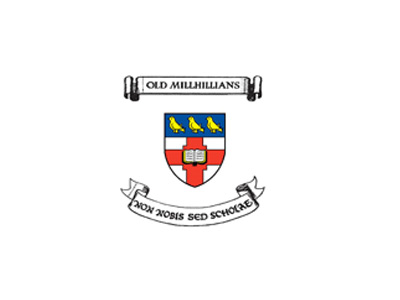 John Cranwell (Winterstoke 1948-53)
Apart from my brother, John Cranwell was the only Millhillian I knew before we both joined MHS. He and I grew up in the same north London suburb. We attended the same schools from reception year to the Stationers' Company grammar school.
I have a vivid memory of Cranwell and myself and another boy playing riotous games of pontoon for Monopoly money. ('Buy for a wad.')
My brother Jack had won a Middlesex award to MHS in 1945. Three years later my parents applied on my behalf. Cranwell told me that without my example, his family would never have thought of applying.
He and I both had difficulty settling in to the relatively strict regime at MHS. We lived in a war-torn capital where rules were few. But eventually we learned the game.
Academically he was no more than average. But he was a very gifted games player. He played for the first teams at cricket and rugby. He might have claimed a regular place as a wing forward but for suffering a fearful gash over one eye when tackling Tommy Kemp. He was lightweight for a flanker, but wonderfully mobile. On the cricket field he was an inconsistent bat but a brilliant and instinctive fielder and catcher. He once told me that he sometimes found himself holding the ball in the gully without much idea of how he had caught it.
His forte was of course hockey and the now forgotten sport of single-handed. He could dribble and pass with as much skill as any inside forward MHS produced in our time. With a single handed stick in his hand it looked as if the ball stuck magically to the stick. If he had a fault on the hockey field it was a wild ambition to win the entire game on his own.
Cranwell was one of a kind - generous, gifted, eccentric, creative – and undeniably slightly mad. There was a spirit of reckless innocence about him that was deeply touching. It is a tribute to the tolerant regime at Winterstoke house that they saw fit to make him a house prefect. In a traditional public school environment, no one as individualistic as Cranwell was likely to climb the promotion ladder much further.
I suspect some people may only later have realised how lucky they were to know him.
David Butler (Scrutton 1948 – 1954)