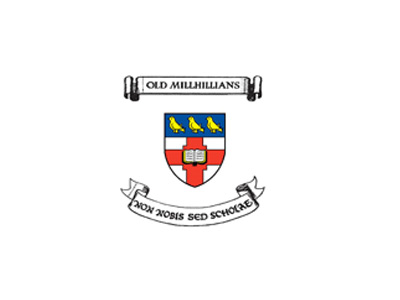 Gordon Arthur Stannard (Burton Bank 1939–45)
Born 24th July 1927 in East London and younger brother of Colin (33-38), Gordon was one of a unique handful of OMs whose full MHS career was undertaken at St. Bees Cumberland during WWII. Evacuated from London in September 1939, Gordon started in Burton Bank (Seacote) and embarked on the most memorable period of his life. Mill Hill suited Gordon perfectly. As a talented sportsman, he excelled in all areas of school life, graduating in 1945 with School Certificate, triple colours and minor in Fives, as Senor Monitor and Under Officer. His memory and stories of MHS life are legendary.
Following Mill Hill, Gordon joined the Royal Naval Air Force serving as a meteorology NCO stationed in different UK bases, regularly representing the Navy at sport. Whilst at RNAS Streeton, Warrington, he met Coral whom he married in September 1950. On leaving the Navy, Gordon joined the family print business F Stannard and set up home in Cobham. During this time, he continued to be an active player for the OMCRFC 1st XV, Hon Secretary for the OMs Hockey Club over two decades as well as playing for the Hawks Hockey Club.
In 1979 a new era of life began when he sold the family business – continuing in private print trade and sales until 80 years of age - and moved with Mum to Kirdford, West Sussex where they fully enjoyed country life for 30 years. Dad was a passionate proud competitive Old Millhillian.
David Stannard (Burton Bank '76)