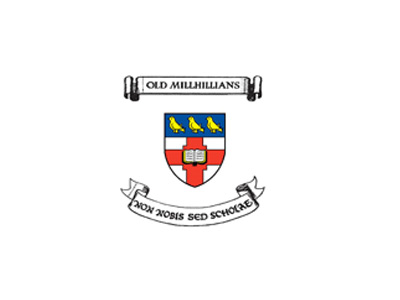 Freddie Thorne (Burton Bank 1943-48)
Freddie Escott Thorne, who was born in Edmonton on the 22nd November 1930, died at The Princess Alice Hospice in Esher on the 3rd November 2013. He was seen on his way by a very large gathering of close relatives and a multitude of friends during a most thoughtful and excellently arranged service at the Parish Church of St Mary, Headley (close to his home in Ashtead), two days prior to his 83rd birthday.
In September 1940, Freddie entered Belmont School which, by then, had been evacuated to St Helen's Girls School at Cockermouth in Cumbria, the county in which he was to spend his next fifteen academic terms. In September 1943, only two months after his brother , Roger J.Thorne, had become an Old Millhillian, Freddie himself graduated to Mill Hill School as a member of Burton Bank, in which house he was two years ahead of a then future President of the Old Millhillians Club, Ronnie Aye Maung, to whom Freddie became a fairly close neighbour in his later years. Once WWII had ended in 1945, Freddie returned with his school to Mill Hill Village for his last nine academic terms, and was a house prefect of Burton Bank in his last year.
In the summer of 1948, on leaving Mill Hill where he had been promoted to sergeant in the CCF, Freddie marched into the Army for his National Service and, after completing his basic and officer cadet training courses, was seconded to the Jamaica Regiment having first been commissioned into the Royal Sussex Regiment. After National Service, he served as a Territorial Army Officer in the London Scottish Regiment for a further seven years.
Commencing in the early-1950s, Freddie spent 41 years in the City of London, gainfully and happily employed in the fields of insurance and reinsurance. He worked for several firms, although mainly for C.T.Bowring & Co (now Marsh & McLennan) of which he became a director. He travelled very frequently to North America, the area for which he became mainly responsible. He was a "name" at Lloyds for many years, but one of the "names" who were fortunate enough not to lose any significant amount of money. Nonetheless, when being interviewed in a TV documentary about the architect Richard Rogers, Freddie followed a precedent created by Prince Charles in that he described the (then) new Lloyds' building in the City as a "carbuncle".
Freddie, who in 1945 was a member of Mill Hill's Under-15 XV, played rugby as well as hockey, tennis and squash long after he left Mill Hill. His interest in and, love of, these and other sports continued throughout his life. He was a member of MCC, and also of the RAC although he always regarded himself as a somewhat "indifferent" golfer. He obtained no little enjoyment from skiing regularly over a period of 40 years, from rough game shooting in both Kent and Hertfordshire and, needless to add particularly in Freddie's case, from all the socialising that accompanied both of these activities.
After retiring in 1990, Freddie also pursued a number of non-sporting interests, many or most of which may well have been inspired by the teaching of history in his time at Mill Hill given that he achieved a distinction in that subject in his Higher School Certificate examinations in 1948. He was elected Chairman of the Ashtead Branch of NADFAS for three years, and Vice-Chairman of The Friends of City Churches. He included history, military history, ecclesiastical architecture, antique silver and ornithology within his sphere of interests and hobbies, and he also became involved in a number of children's charities.
Freddie and his wife, Julia who looked after him so well in his declining years, had a well-earned reputation for very generous hospitality. It has been alleged that, when he spotted friends approaching, it was always a bottle rather than the front door that he opened first, before then going on to extend a really warm welcome in which he was ably aided and abetted by Julia's provision of an excellent meal, sometimes served in their charming garden.
Freddie's genealogical "score", when the "umpire on high" finally raised his forefinger, was four children, two step-children and fifteen grandchildren, virtually all of whom were at St Mary's Church on the 20th November 2013 to see him on his way.
John Chawner (son-in-law of Walter T. Isaac)