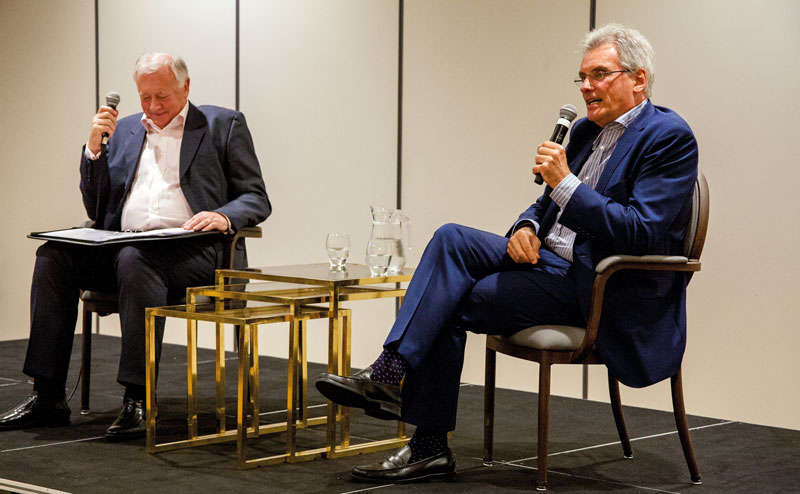 Entrepreneurs Evening
Inaugural event for current and aspiring OM entrepreneurs.
"An Evening with Nigel Wray"
May 1st, Allianz Park, Hendon NW4 1RL
If you google Nigel Wray (Ridgeway 1961 – 1966) you could be forgiven for thinking that all he cares about is sport. He is a major owner and Chairman of Saracens RFC, one of the many loss-making Premier Rugby clubs! He has created "The Priory Collection" – a unique, impossible to value collection of sporting memorabilia ranging from cricket bats personally signed by W G Grace and Don Bradman respectively to the only painting ever painted by Muhammad Ali. So why would budding entrepreneurs want to hear Nigel's views?
Well, Nigel started his business life as an entrepreneur with his acquisition and successful turnaround of the Fleet Street Newsletter, leading to investments in Carlton Television, Singer and Friedlander, Domino's Pizza and two major property companies Burford and Prestbury with OM co-investor Nick Leslau.
Over the past 40 years he has invested in more entrepreneurs than most of us will probably meet in our lifetime. He is often referred to as "Britain's Warren Buffet". The Estates Gazette Rich List 2013 values him at £230 million.
This event is a unique networking opportunity for any OM who is, wants to be or wants to help an entrepreneur. The centrepiece will be a Q & A session during which Nigel will answer questions from the audience on any topic relating to entrepreneurial activity, for example, how he became an entrepreneur, who he backs and why and what advice he can give to current or aspiring entrepreneurs. The programme is as follows:
Our guests will include sixth form Business Studies students from Mill Hill School and also members of the Saracens rugby squad as part of their "Life after Rugby" programme.
Attendees:
Antoniou Skev
Armitage Leanne
Bhimjiyani Vishal & Mandira
Bloom Andrew
Bunyard Simon & Lara
Burns Roger
Burns Stephen
Burtt Alex
Butera Raimondo
Carson James
Church Robin
Clapton Nathan
Conn Alexander
Donald William
Donald Mark
Duthie Susy
Eaton Mark
Fear Graham
Goldberg Jamie
Goldberg Raphi
Green Charlie
Gugenheim Mark
Gulmohamed Faiz
Gupta Abhijit
Harris Andrew
Harris Jonathan
Horder Jane
Irvine Stuart
Jacobson Myles
Kishon Daniel
Le Fort Justin
Morrison Robert
Mortimer Andrew
Nelson John
Paget Samantha
Rothwell Paul
Scott Gavin
Solomons Michael
Streeten Roger
Taylor James
Theodorou Panayiotis
Toulson Alan
Tray Richard
Vekaria Mitesh
Ward Anthony
Warren Thomas Nigel & Susan
Wernham Stewart
Whaley Nelson
Zitcer Cary