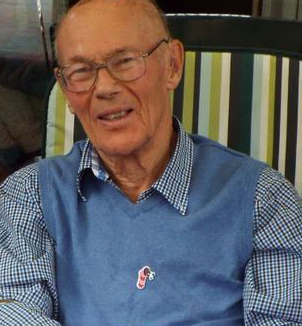 Dr Dennis Witcombe OBE
Dr Dennis Witcombe OBE OBITUARY
It is with great sadness that we announce the passing of Dr Dennis Witcombe OBE on Tuesday 19th September 2017. Dr Witcombe was the Headmaster of Nottingham High School from 1970 until his retirement in 1995.
Dr Witcombe was educated at Mill Hill School from 1943 to 1949, followed by a year serving with the National Intelligence Corps in Austria.

In 1949 he went to St John's College Oxford where was awarded a BLitt and MA in History. A PhD in History followed this from the University of Manchester.

In 1955, Dr Witcombe's career in education began as a history teacher at Emmanuel School in London, later becoming the Senior History Master. In 1964, he joined Manchester Grammar School.

In 1970, he was appointed as Headmaster at Nottingham High School, a position he held for the next 25 years.

It was during Dr Witcombe's tenure that the School saw the opening of the new Preparatory School, the Sports Hall and the Design and Technology and Science blocks.

Dr Witcombe's tenure at the School was marked by resilience, humanity and most importantly dedication. Sport, music, drama and the Duke of Edinburgh's Award Scheme are just some of the activities that were supported by him - delighting in success, commiserating in defeat. He was a regular visitor to the Army, RAF and Naval sections training and adventurous training camps. He was also Board Headmaster for cadetships at Biggin Hill.

In 1995, Dr Witcombe retired as Headmaster, following a 40-year career in education and 25 years as Headmaster of Nottingham High School.

In his retirement address, Tim Moore-Bridger (then Deputy-Headmaster) said, "Dennis always likes to stress that Nottingham High School is a family, a community of people who all have a common purpose, the success and prosperity of Nottingham High School"………... "Dennis is the youngest 65 year old I know. He always has a twinkle in his eye, a mischievous streak - was it an accident or a Freudian slip when, last week, at Prep prizes he talked of Nottingham High School educating boys and girls for the next century?"

Even in retirement, his support for the School was as enthusiastic as ever and he continued to attend numerous School events including Founder's Day, Speech Day and the Carol Service.

Dr Witcombe was President of the Old Nottinghamians' Society in 1999 and he regularly attended the popular Beeston Fields lunches and ON Society Dinners.

Dr Witcombe was awarded an OBE for services to education in the 1996 New Year's Honours list and in 1995 received an Honorary Degree from the University of Nottingham.

Our sincere condolences go to Dr Witcombe's widow Pat with whom he celebrated 60 years of marriage in 2016; their sons John and Simon, who are former pupils of the School; grandchildren and great granddaughter.