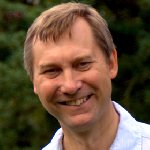 David Harrison (Scrutton 1965-69)
David Harrison was born on March 2nd 1952 in Hammersmith. He was a fine athlete, winning awards for High Jump, Triple Jump, and sprinting, as well as scoring tries for the Rugby 1st XV as a nimble and versatile winger.
At school he was a well respected School Prefect and a very able Mathematician and Scientist. Afterwards he gained an MsC at City University before becoming a Civil Engineer. Dave cemented his reputation as a Structural Engineer by assisting in the design of the M67 Motorway, later specialising in safety procedures for Off Shore Oil Platforms.
Dave belonged to Ealing Golf Club, and Mill Hill Golf Society, playing with great panache on championship Golf Courses. The key to his sporting prowess was that as a consummate all rounder, he could play any shot effortlessly but was always self-effacing and happy just to play the game.
The pinnacle of his career was when he joined Lloyds Register. But, despite being diagnosed with Cancer, he continued to both work and play golf with heroic stoicism and courage, earning the admiration of all his friends and colleagues. Sadly, David died on Febuary 8th 2011. He was a charming, intelligent person, adaptable and possessing exceptional communication skills. Admired by his peers, he put colleagues at ease with his self-deprecating humour and exemplary professionalism. He is survived by his wife Jennie, son Ben, daughter Holly, and brother John: he will be much missed.
John Harrison (1968-72) & Ben Harrison