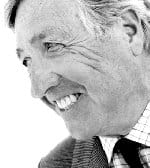 Colonel Keith Douglas Calder. TD*. DL., LDS(Dunelm), late RADC (V). (Burton Bank 45-49)
In 1945, the year that Mill Hill returned from its wartime St Bee's exile, Keith Calder joined the new Burton Bank intake. Life was hard in those days for the mixed bag of Prep School and Middlesex Scheme boys, particularly that first year in BB.
Keith however prospered and in a letter written to Ronnie Aye Maung (BB, 1945-50) just before he died, he says "I look back with nostalgia at my time with the GC …., I was something of a late developer, not really getting into rugby and squash until I was at University". This did not prevent him from playing like a demon in the House Rugby Shield competition and getting enthusiastically involved in a number of house and school activities. He leaves with all his friends at BB the memory of an amiable, forthright and loyal companion. His letter also recalls a regret that he did not work too hard academically at the GC, but only hit his scholastic stride when he got to Durham. Characteristically, he reinforced his appreciation of the time spent at Mill Hill by his consistent support of Old Millhillian Club events throughout his life.)
Written by Ronnie Aye Maung
Keith left the GC after four years in BB for a place at the then Sunderland (Durham) University Dental School. There he found he had an interest in and later excelled at, anatomy and even contemplated further studies. He joined in University life and and played with zest much rugby and squash.
His younger brother Ian Calder (49-53 BB) who had also been at Mill Hill with him was never found and presumed drowned after a canoeing accident in British Columbia. Keith made it his business to contact his brother's friends and then to retain lifelong links with them.
After qualification Keith undertook to further his postgraduate education with various posts within the hospital service in Huddersfield, Cambridge, Bognor Regis and in Middlesborough. He then established himself as a highly experienced practitioner at his own dental practice at Cleveland Terrace, Darlington. His skills were such that his many colleagues and patients described him as deeply caring, a meticulous professional who obtained excellent results. His sociability enabled many long-lasting friendships from those times. He married in 1955 and he and his wife, Helen, were popular figures in the local community. After moving to Whorlton, a small village near Barnard Castle, Keith became Chairman of the Village Association and a churchwarden at the local parish church, St Mary's.
He joined the Territorial Army in Durham on obtaining his commission as a dental officer in 1960 and served in Belgian, Germany, Cyprus and in Northern Ireland. During his service he was awarded the Territorial Decoration and bar and was promoted Lieutenant Colonel in 1978 to command 223 Field Ambulance. To his great credit he obtained the highest rank open to a specialist and Territorial Officer, when selected to be a full Colonel in 1983 and asked to take charge of 201 Field Hospital in Newcastle. On his retirement from the TA in 1986 he was rewarded for his long commitment to the Reserves by selection to be a Deputy Lieutenant for the County of Durham. He was successful and well known for his kindness, thoughtfulness, good manners and for his precise arrangements. A punctilious gentleman who kept up standards, he was especially loyal to his friends and to his Army colleagues. He was Chairman of the Durham Light Infantry Association and an active supporter of many charities including Army ones.
His duties required him to represent HM The Queen at Remembrance Day parades in Co. Durham and he performed many other formal and social duties as required to within a few weeks of his death. He had to retire aged 58 years from his dental practice due to a work associated asthma and although sad to relinquish his professional skills he was able to spend more time fishing in the Spring and Summer and then Shooting in the Autumn and Winter.
He and the author tried to obtain interest in an OMs Country Sports section but to his amazement he had no replies to his offers to take people fishing for trout or salmon on his beloved River Tees. Despite this several successful days out shooting were arranged and much enjoyed. A keen and accurate shot and often sporting his OMs country tie, he was always made welcome by his many friends, whether on the grouse moors near Catterick or on Wemmergill or picking up with his spaniel or partridge shooting in the lush lands of the South. He drove as you would expect, a Land Rover Discovery, with confidence, skill and a little élan.
He was an intrepid traveller and he and Helen made light of long self planned journeys through India, Afghanistan and China. Apart from a bout of pneumonia in Hong Kong he admitted to no other ill effects from his far reaching off the tourist track travels, despite at times being surrounded by armed tribesmen. When not travelling, shooting or fishing he made sure he was available for meetings of the Darlington Fine Wine Appreciation Society which he helped to found.
Unfortunately Helen became ill and about 1999 he found that she was not always able to look after herself. Keith looked after her assiduously for many years during her long illness. She died just a few months before him in 2008.
Keith knew of his own diagnosis of cancer about a year ago and all who knew him were in awe of his courage, frankness and dignified acceptance of his fate. He just kept going to the last and joked and laughed when he could. He never complained in adversity. When he found he was no longer able he minimised every aspect of his illness and bore a debilitating condition with great fortitude. Ever courteous, he will be missed by those of privileged to have known him.
He leaves his two children, his daughter Mrs Fiona Norton and his son Rev. David Calder, six grandchildren and his friend and companion Gill.
Hugh Cannell. Burton Bank 48-54