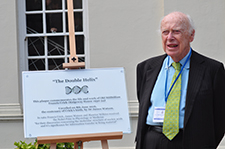 Celebrations of Francis Crick's Centenary
We were delighted and honoured to receive a visit from the Nobel Prize-winning scientist Dr James Watson on 8th June 2016 to mark the centenary of the birth of Francis Crick (Ridgeway 1930-34). Together, James Watson and Francis Crick cracked the code to "the secret of life" when they put forward the double helical structure of DNA in 1953. The breakthrough is hailed as one of the most important scientific discoveries in history.
Dr Watson was joined by the Chairman of Governors, Dr Roger Chapman, the Head, Mrs Frances King, staff and pupils on the quad to unveil a plaque to commemorate this special day for Mill Hill. Fittingly, the unveiling took place in front of the Science Building where Crick studied as a pupil and which is to be renamed in his honour during this centenary year.
Pupils due in science lessons were instead treated to the story of the race for the double helix as Dr Watson delivered his fascinating account of the breakthrough and his work with Francis Crick, Maurice Wilkins, Rosalind Franklin and other eminent scientists of the time. This was a unique opportunity for our pupils to hear first-hand from one of the greatest scientists of our age.