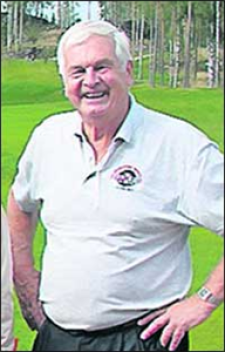 A.S. Bell (1948-52)
Tony Bell arrived in Collinson House in September 1948 having lived for previous three years in Switzerland, and demonstrated immediately a characteristic which would be his hallmark for the next sixty years – enthusiasm. Whether it was fagging, cleaning the junior common–room, his studies, rugby, cricket or cross-country running Tony was in his element, minimising the hardship, emphasising the benefits and pleasures, and encouraging others.
This gift was the underlying factor in his progress through Mill Hill where he became a monitor, head of house, member of cricket XI and captain of both the 2nd XV and 2nd hockey XI in addition to being on the Games Committee and a member of numerous societies. He left in 1952 to take up accountancy, and quickly became a regular member of the OMs rugby and cricket clubs
In 1957 Tony took a short service commission in the Parachute Regiment, fortunately breaking his ankle in one of his early jumps. The good fortune was that whilst on the resultant sick leave he met Joy, a nurse who was to become his wife. In 1962 Tony turned down strong requests by his commanding officer to make the army his career as he wanted to marry Joy and left a few weeks before they did so. Not wanting to return to accountancy Tony joined his father-in-law's company and set up home with Joy in Wiltshire. However, his enthusiasm for the OMs was such that he commuted regularly at weekends to play at Headstone Lane. By this time he had also taken up golf and became a very keen member of the OMs Golfing Society. It was a regular feature to see his large frame standing on the tee booming the ball hundreds of yards down the fairway – unfortunately, very often the adjacent one.
When in 1965 Joy's father's business was sold Tony left to join his father's business, Transart in Godmanchester. He commuted from Wiltshire for a year until he and Joy moved to Hemingford Gray in 1966, when Alex (MHS 1979-84) was a few months old and where Tony founded the local squash club. Shortly afterwards Lizzie and Susie were born making Tony a very proud and loving father of three. In 1970 the family moved across the river to Houghton.
It was here that Tony's friendship, enthusiasm and willingness to work for others became legendary. Not only was he travelling extensively for Transart making life-long friends throughout Europe and Scandinavia, he became involved in almost every facet of the village and county life. Within a year he became Church Warden. One day he answered the phone to hear the voice of his old commanding officer who said he would like Tony to do something for him. Without hesitating Tony said "yes, what is it" and as a result became the Scouts County Commissioner for West Cambridgeshire, a position to which Tony, as was his custom, devoted enormous time and energy for the next nine years. He was a leading light in organising the village fete, he almost single-handedly raised the money to renovate totally the village hall, he founded and was chairman of the gardening club, wrote regularly about birds in the village magazine and by no means least, he was very active in the local golf club. Here he was renowned for wanting the fairways wider and as the person who organised numerous overseas golf trips for members to such places as Germany, France, Spain and Finland.
But in spite of all these interests, second to his family was the Old Millhillians Club. It was this that was his main love. He was a hugely successful member of the Golfing Society, hardly ever missing a tour, serving on the committee for years and being captain in 1990. He organised the OMs Anglian Dinner in Cambridge for more than 25 years and was a regular attendee at other dinners around the country. He was an active member of the Vintage Car Club, was a long standing member of the Council and then when the structure was changed, the Management Committee, and was for some while the Club's overseas liaison officer. However, his proudest achievement was to be President during the millennium when he and Joy travelled not only the length and breadth of the UK, but the world, attending OM functions. His successful annual dinner held at the School was a fitting end to his presidential year.
Tony's passing was sudden. He was recovering in Papworth Hospital after his eagerly awaited by-pass surgery when he had a massive heart attack, ironically twenty two years to the day after the tragic death of his daughter Susie. His funeral service in Houghton church was extraordinary in that there was no standing room left in the church and over one hundred and fifty of his friends from around the world had to stand outside while the service was broadcast. It was a fitting tribute to a man who had loved life, loved the world and had always striven to ensure that others had shared his pleasures.