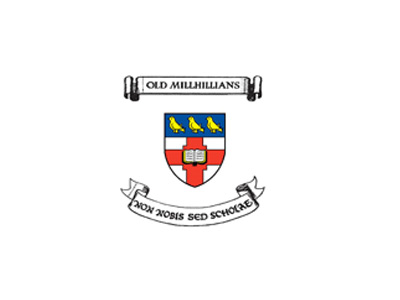 1963/64 Reunion
Saturday 17th May 2014 - 1963 & 64 reunion Lunch at MHS
On a beautiful late spring day, thirty two Old Millhillians who left in either 1963 or 1964, six accompanied by their wives, gathered for drinks in the Crick Garden. A warm welcome from the Headmaster was followed by informative addresses from Mrs Jane Sanchez, Senior Deputy Head, and Miss Sanyu Zimbe, Head of the Boarders, in the Crick Room, before an excellent three course lunch in the Dining Hall. The noise from enthusiastic conversation was conspicuous and confirmed the pleasure of re-kindling, refreshing or continuing old friendships, old acquaintances and, perhaps in some cases, old adversaries.
Lunch was followed by tours of the School in four groups, visiting boarding houses, including Winterstoke, now the home of Grimsdell pre-prep, and then various school buildings, not least the impressive Favell Building. Our tour guides were Jane Sanchez, her daughter and OM, Paulla, Ella Duthie, Upper Sixth student and grand-daughter of Alan Prosser-Harries, and Nick Priestnall, Director of the Foundation Appeal. To each of them we offer our gratitude for sparing so much time.
The afternoon ended with tea and the opportunity to pour over archived photographs and other memorabilia from our era, while viewing the permanent display, in the Old Millhillians' Room. The consensus was that this 50 year reunion was enjoyable, worthwhile and long overdue. The organisers hope that renewed contacts will be maintained and might lead to other contacts developing.
Russell Cowan, Weymouth 1958-63
Attendees:-
Aylward Quentin
Black Euan
Borgars John
Briggs Peter
Cohn Ronny
Cowan Russell
Duthie Ella - pupil
Ellis Chris & Suzanne
Fingland Paul
Francis Richard
Khaleeli Ali & Cherie
Lidwell Dick
Mayor John
Nicholas Paul & Elsa
Oldroyd John
Phillips Michael
Priestnall Nick - Director Foundation Appeal
Rose Andrew
Sanchez Jane - Deputy Head MHS
Shaw Charles & Carolyn
Smith Stewart
Steele Peter
Steele Roger
Stewart Mark
Swanne Martin
Todd John
Toulson Roger Lord & wife Elizabeth
Wakeham Peter
Wallace Keith
Ward Peter & Audrey
Wrottesley Mike
Zimbe Sanyu - MHS pupil