National Liberal Club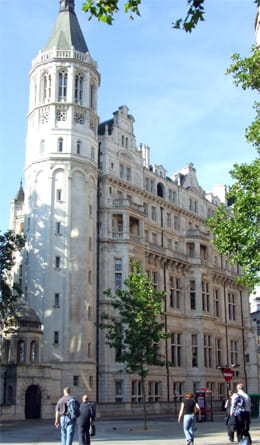 The National Liberal Club (NLC) remains completely independent but, as the name implies, continues to be closely identified with the historic Liberal traditions and Liberals worldwide. Overlooking the Thames, with "the most splendid terrace in London", the Club is within easy reach of Whitehall, the West End, the City and theatreland. The clubhouse is conveniently situated for underground and mainline stations which are close by. Luncheon and dinner facilities are provided on weekdays. Please note that accommodation is not provided at the NLC.
The Old Millhillians Club has enjoyed a special relationship with the NLC since 1969 and the following terms for the Club's relationship with the NLC now apply.
The National Liberal Club (NLC) membership joining fee
The Joining Fee for NLC full Annual and Life Membership (currently £200) is waived for Old Millhillian Club Members in perpetuity*.
NLC Membership application process
The special arrangements with NLC are only available to fully paid OMC members. Before applying for membership of the NLC, please submit the OMC membership verification form to omrelations@omclub.co.uk This form will be co-signed by a Club Officer and should be sent with your NLC membership application which is available from the NLC website http://www.nlc.org.uk/membership. You will also require a proposer who is an NLC member. The Club can arrange for this.
*Both Clubs see this as a long-term arrangement for their mutual benefit. Nevertheless, the Agreement will be reviewed in 2025 with particular focus on whether or not arrangements intended in perpetuity continue to meet the requirements.
Whitehall Place,
London SW1A 2HE

t 020 7930 9871
f 020 7839 4768
w www.nlc.org.uk