Careers Support
Work Experience – Making a Difference
The Old Millhillians Club has recently established a Career Support Sub-Committee. Its members are Mitesh Bhimjiyani, Ted Ivens, Dick Lidwell and Peter Wakeham. The team will work closely with the Club Office and the school's Careers Department to further the career interests of OMs and pupils.
One of our major priorities is to help provide a range of work experience opportunities through the Old Millhillian community. There is overwhelming evidence that young people are more likely to be successful in their job hunt if they have done some good work experience. Moreover, graduates who have had no previous work experience at all are unlikely to be successful during the selection process.
What we need from you:
- A copy of your CV
- Dates - what time period are you looking for
- Type of work - Saying 'Finance' and 'law' is quite vague - let us know as much as possible the type of work/area you are interested in
- Location - town/city/country you can work in.
- Experience - advice/chat/work shadowing/summer placement
Email the Club office omrelations@omclub.co.uk with the above information and then we will ask OMs within the industry you are interested in if they can help. We will only circulate your CV to OMs who contact us offering advice or help.
All we need is a good copy of your CV which we circulate amongst OMs; if they can help, they will. Some OMs can offer advice by telephone/email or face to face, whilst others can commit to work-shadowing and work experience placements. Needless to say their insight is invaluable and they are willing to answer any questions you may have on your chosen career. They can act as your mentor and most importantly they want to give something back to the School and young people.
Who are we?
Ted Ivens, who has conducted hundreds of candidate interviews during his long career as a head hunter says: "I can honestly say that those candidates who had enjoyed any form of work experience stood out from those who had not. I could spot almost immediately the confidence it had given them and their broader knowledge and wisdom."
Dick Lidwell, who has spent his whole working life providing career advisory services, makes the following comment: "Students benefit enormously from work experience if they use it well. We encourage them to keep a diary of their time which then becomes a crib sheet for the future when writing applications and updating the CV." The advantages of work experience are not one-sided. The Chartered Institute for Personnel Development (CIPD) sees the following benefits to employers: "Work experience placements enable you to access a wider range of talent and engage with your community, potentially with a view to employing more young people as part of your workforce in the longer term. Offering work experience placements can also make a useful contribution to your strategic talent management and workforce planning. Young people offer new ideas and fresh ways of thinking, reflecting the interests and needs of the next generation of customers and consumers. Furthermore, it can be an opportunity for staff development with potential for management opportunities, because staff can act as 'mentors"
OM Career support case study
Klaus Wang (Burton Bank 2010-2012)
Klaus asked the office to help him to find a job within finance. He writes, ' I am glad to tell you that I got an internship at a hedge fund Z Investment Partners. I have already started this part-time internship and it should last until October 2016. Fortunately I have got an permanent job offer as a quantitative analyst at LMAX, and now I have decided to accept the offer and join LMAX in October 2016.
I am very grateful to the OMC office for helping me with my career development.
OMC career service is an amazing thing to have and it has brought me so many opportunities that may potentially changed my whole future career. After I start my career in the City of London, I think I will be willing to do things I can to contribute to OMC and its career service, so more people may benefit from it.
OMs Professional Networking Events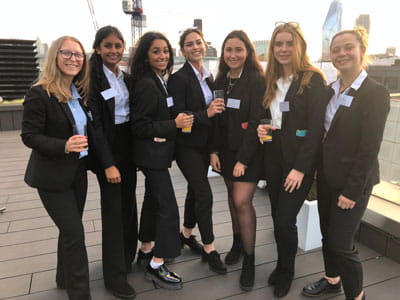 The OM Club offers free spaces for pupils to attend its networking events. Pupils from Mill Hill School have attended a Law event, Medical event which consisted of OM medic speakers ranging from medical students to consultants and a City Dinner with John Allan CBE Chair of Tesco as speaker allowing students the opportunity to take part in Q&A. Previously the Club has hosted events for young entrepreneurs and an evening with Nigel Wray.
Supreme Court
In 2015, a group of MHS pupils were amongst the large gathering of OMs who enjoyed a private reception at the Supreme Court in Parliament Square. The event was organised following the appointment of Old Millhillian, Lord Roger Toulson as a Justice of the Supreme Court. The group was given an informative and fascinating account of the history and the workings of the Court by Lord Toulson. There was an opportunity to ask questions, tour the building and network with other OMs who attended the event.
OM Entrepreneurs event – Allianz Park
OM entrepreneur, investor and rugby fanatic, Nigel Wray, responded to questions from the audience on a wide range of topics relating to entrepreneurial activity, such as, how he became an entrepreneur, who he backs and why and what advice he gives to current or aspiring entrepreneurs. The event attracted close to 100 attendees including sixth formers and Deputy Head Jane Sanchez.
Young Entrepreneurs Event
The event took place in March 2015 with over 40 attendees including 6 pupils from Mill Hill School. The evening was an opportunity to hear about the experiences of 4 young entrepreneurs, who were happy to share the joys and war wounds of running their own businesses. The evening was hosted by OM Zu Rafalat (Managing Director & Co-Founder of neo-kin.com), who held a panel discussion including OM Russ Armstrong (Managing Director & Founder www.castorvali.com). The purpose of the evening was to give OMs and Mill Hill students alike an honest, 'no holds barred' introduction into the realities of starting and scaling a young business. One panellist was particularly taken with a 14year old student's business idea – watch this space! The event was held at OM Charlie Green's fantastic new co-working space, Henry Wood House, near Oxford Circus.
Distinguished Old Millhillians return to inspire current pupils
Lord Glendonbrook (School House 1955-57), formerly Chairman and Chief Executive of British Midland Airways and Chairman of Channel 4 spoke to OMs at the City Dinner in 2012. In November 2013 he had lunch with 6th Form Business Studies pupils and staff in the Old Millhillians Room.
Phillip King (Winterstoke 1947-52) studied at St. Martin's School of Art and was then assistant to Henry Moore. Philip taught at St. Martin's from 1959-80, was Professor of Sculpture at the Royal College of Art until becoming Professor of Sculpture at the Royal Academy Schools, London and President of the Royal Academy 1999-2004. Sixth Form pupils enjoyed his visit and learning about his work.
These visits, arranged by Nick Priestnall in the Development Office, tie in very well with the Old Millhillians Club growing portfolio of careers guidance activity.
Telephone Campaign
In July 2015 the Mill Hill School Development office recruited just under 15 young OMs for their Telephone Campaign. Nick Priestnall, Director of Development writes, 'We would like to thank all of you who so warmly received telephone calls from recent leavers and sixth formers during July's telephone campaign in aid of the A Better Chance Bursary Scheme. The campaign was not just about raising money. The conversations allowed us to engage with OMs who had not been very connected with the School before.
Ted Baker
The owner of Ted Baker, the renowned fashion label and a former parent at Mill Hill School has been a supporter of the Careers service. Last year a small team of sixth formers worked with the design team at Ted Baker to produce new merchandise for the OM Club. Ladies pashminas, silk squares and canvas bags are now available for sale in the Club office. The sixth formers learnt a great deal from their experience. Recently, the HR department at Ted Baker asked the OM Club to advertise the 'Ted Baker Diploma scheme'. MHS school leavers have the opportunity to apply.
---